Renovation Of Older Properties
Renovating those older – and more majestic – properties can certainly make for a desirable so it's important to get things right from the word 'go'! When a house builder takes on an older building, or listed property, it is the ideal setting for modern apartments contrasting with the older brickwork and architecture.
Looking at the surrounding area, you can see if new properties will fit into the design of the area. In the case of the new Barnes Village, the new properties are being built around the old Barnes hospital. New meets old.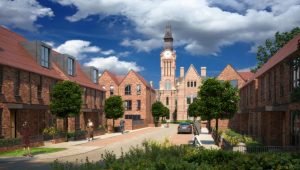 One of the first things any contractor should look at is whether you're not buying into a never-ending cheque book. This is certainly the worse-case scenario. Whilst older properties can at first sight appear quite charming, they're also steeped with history (age!) and might not always be as profitable as they first look! Always be sure to employ a reputable and honest Surveyor who'll be sure to look far beyond the peeled wallpaper and always, always seek the honest opinion of local experts, such as electricians and damp specialists before you commit yourself to anything in writing. When it comes to selecting a contractor to complete the painting and decorating, you need to work with a reputable and professional contractor who understands working with older properties. The ideal contractor – such as SD Painting Contractors, can work on time, on schedule and to a high specification finish.
Renovating older properties can be an absolute joy and many property developers have confessed to 'having moved into it rather than selling it on'! Hardly surprising given that most new builds lack character or style but it's definitely one to consider!